©2005 Kobbi Blair, Albany Statesman Journal
About the 10th NY Organization
The 10th NY Cavalry is a living history organization based in Oregon that recreates the historical regiment of the same name. The original 10th New York Cavalry fought in many of the most significant cavalry battles of the U.S. Civil War (1861-1865).
The 10th NY operates under the umbrella of the Northwest Civil War Council (NCWC), a 501c3 nonprofit organization based in Oregon. The 10th NY was organized in 1998 and has been participating in NCWC events ever since.
In 2000 the 10th NY became a founding unit in the Northwest Cavalry Association (NCA) and has participated in events such as the Grand Floral Parade and the Northwest Horse Fair under the NCA's banner.
Members of the 10th New York also recreate other historical cavalry and horse artillery units as needed for particular events. When doing a Confederate impression we fall in with the 9th Virginia Cavalry.
What We Do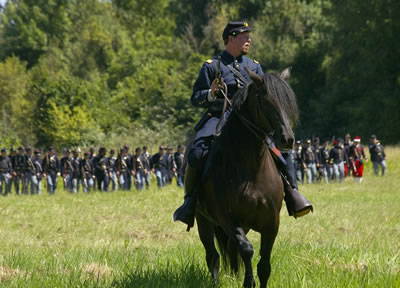 We participate in:
Training and Clinics
Civil War Reenactments
Parades
Back-country "tactical" events and marches
Horse fairs
Living history events
School demonstrations (yes, often we can even bring horses to school!)
New members are welcome to participate in as many or as few events as they have time for. There is no absolute attendance requirement unless you want to qualify to be an officer. Some events require training and evaluation of your riding skills before you can fully participate.
Photo © 2005 by Cliff Self
The 10th NY Cavalry participates in four Civil War reenactments sponsored by the Northwest Civil War Council in Oregon:
Willamette Mission State Park (just off I-5 between Portland and Salem, 4th of July weekend)
Dorris Ranch (Springfield, August)
Ft. Stevens State Park (Astoria, Labor Day weekend)
McIver State Park (Estacada, late September)
Other major events that the 10th NY regularly participates in include:
Grand Floral Parade (Portland, June)
Veterans Day Parade (Albany, November)
Northwest Horse Fair and Expo (Albany, March)

Lt. Morris with Heritage and Joe Hamer with Blaze and Jeena at Ft. Lewis, WA
Some of us travel to events in other states as well. We've even taken part in real military ceremonies, for example we fell in with Bridges Illinois Battery for the reactivation of the 5th Squadron, 2nd Cavalry Regiment at Fort Lewis, Washington on July 25, 2005.
Safety and Horse Welfare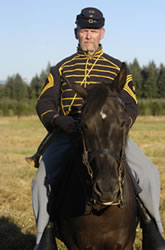 We take safety very seriously! Horseback riding is an inherently risky activity; participating in battle enactments and handling weapons adds an additional element of risk. Therefore we take measures to reduce risk. Every rider must familiarize himself with the NCWC's safety rules. We have regular group trainings, annual mounted tests for horses and riders, and written tests that must be taken before a soldier participates in public events. By passing these tests a rider demonstrates that he has the skills and knowledge necessary to participate in battle enactments.
We also take the welfare of our horses very seriously. From the setup of our picket lines (to provide horses shade in summer, and shelter from rain in winter) to the training our riders receive, we work to ensure the safety and comfort of our animals. Paying attention to things like saddle fit and grooming pay off in the long run. After all, it is almost certain that if your horse is not having a good time, you won't have a good time either!