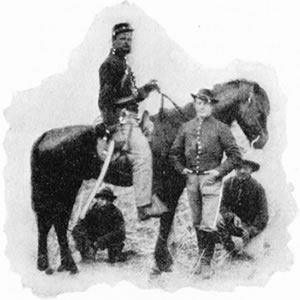 A Brief History of the 10th NY Cavalry by Ken Morris
Describes many of the regiment's most significant battles, with firsthand accounts from eyewitnesses.
Life in the 10th NY Cavalry by Ken Morris
An article that gives an idea of what the men in this regiment were like, and the day to day life of the cavalryman. Lots of quotes from original letters and diaries.
Notable 10th New Yorkers by Ken Morris
Biographies of some notable members of the original regiment, and links to some of their gravesites, including that of Medal of Honor recipient Herbert Farnsworth in Pomeroy, Washington.
Historical Sketch of the 10th NY Cavalry
By Colonel Noble D. Preston, taken from Final Report on the Battlefield of Gettysburg