Photos of our horses and riders
Pistol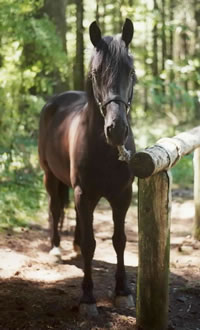 Pistol is a 14.3hh black Morgan gelding with a small star and two white socks. He belongs to our bugler but also serves as a commander's or courier's horse when needed. Pistol is an alpha horse (former stallion) and like an old Sergeant he does his job very well, but is a bit of a curmudgeon. He likes to roll more than any other horse we know, so you'd better get the saddle off him quick when you're done riding him. (Apparently, being clean is an unbearable state to Pistol and he does his best to rectify it.) Pistol will eat almost anything, and therefore is used to take care of camp leftovers, from corn husks and watermelon rinds, to congealed oatmeal. He also enforces his own rules:
I have the right to nip any other horse in formation if they aren't doing their job.
I have the right to nip a horse even if he is doing his job, just because.
Uneducated riders will not be tolerated. If they insist on riding me, I will educate them my way.
I must be fed first.
If treats are getting passed out, I get the first treat and the last treat.
I must be promptly untacked after you are done riding. Otherwise, I will not be responsible for damage to your saddle.
I must be allowed to graze after battles. It is perfectly acceptable to let me loose to do this. I won't get into trouble. (Promise.)
Photo © 2002 Mary L. Miller
Jeff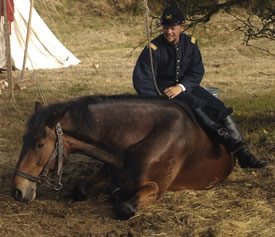 Jeff is a15.3hh Cheval Canadien gelding, but he's not very typey and looks more like a Cleveland Bay cross. Jeff has a laid-back temperament and will do anything you ask him to do. You can vault with him or take hits off him (he'll just stop and graze). Jeff is a reliable (though not fast) cavalry horse, but he was really born to be an artillery horse. He is a near wheel horse in the artillery, and at 1350 pounds he has the size and strength to start and stop 3000 pounds of cannon and limber. In real life Jeff is a combined driving horse, a training horse for other horses learning to drive in pairs, and a school horse for beginning riders. In 2005 he won an Iron Horse competition in Canada, which including a trail course, driving classes and pulling a stoneboat, and in 2006 he and his mate Hercule won "Best Horse Drawn Vehicle" for pulling the Molalla Buckeroo Stagecoach at the Grand Floral Parade. Photo ©2005 Freedom Mobile Photography
Drift
Drift exemplifies what a lot of old cowboys looked for in a quarter horse—"fat and red." Compactly muscled, he's wickedly fast in a sprint. He seems to enjoy the excitement of reenactments and really gets into the action. A rodeo veteran, he is hard to beat in a mounted shooting or saber competition.
Treed
Treed is an older gentleman, and aside from his longer back, is hard to tell apart from Drift. He's a dependable mount for younger and beginning riders because he'll automatically slow down if he feels the rider losing balance.
Heritage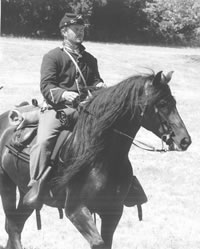 Heritage or "Taj" for short, is a 15hh Cheval Canadien mare. She is a brave lead horse and a reliable jumper. Her motto is: "I don't care if anyone else wants to follow me, I'm going!" She has a friendly, gentle temperament that makes her very popular with kids. This works out well because she is a real hog for attention. (Actually, she believes that all people, horses, and dogs should adore her and is visibly offended if they don't.) Like a good Army horse, she enjoys coffee and hardtack (one of her favorite treats.) It didn't take her long to figure out what a haversack is for. Heritage is in foal for 2007, so she is taking a break from the cavalry field. Her 3 year old daughter Nisa is in cavalry training. In size and conformation Nisa looks very much like the Canadian horses of the 1860s. At 14 hands she is pony height, but she is a little tank, with the substance to carry a trooper and his equipments. She has a big attitude too. She shows every sign of becoming an alpha mare, just like her mom. She gets impatient when another horse walks too slowly and will take the lead. She resists if you try to force her to do something, but if you offer an incentive she picks things up in a snap. Photo ©2005 Freedom Mobile Photography
Boo
15.2hh Polish Arabian gelding. Boo is fast and athletic and jumps like a deer, but once in a while, for no particular reason a screw somewhere in his head works loose—and that's how he got his name. He was a rescue horse, so no doubt he has some demons in his past. Under a patient and understanding rider he does a great job. In real life Boo is an experienced gaming horse and has won a lot of ribbons.
Trouble
15.2hh Quarter Horse mare. Initially Trouble lived up to her name—she's highly competitive, didn't like other horses too close to her, and she could get herself pretty worked up at drill. But after a while she settled down and started to enjoy herself. She's big, fast and a good jumper. Even though she's a bit hot-blooded herself, she raises babies that are dead quiet.
Smoke
"Hot Smokin Gun" or "Smoke" for short is a small, compact quarter horse, of a type that would have been called a "Steel Dust" in the Civil War. He is calm but has sensitive ears, so he wears ear plugs for fighting. He's also very fast so is often used as a courier horse. He likes people and attention.
Dundee
In the Civil War Dundee would have been called a "claybank." This color of horse was found throughout the US, but many of them were raised in Missouri. Dundee is a former champion roping horse, and a "Good Old Boy" who isn't bothered by much and gets along well with other horses.
Riki
15hh breeding stock Paint mare. Riki was only 3 years old during her first season with the 10th NY—normally way too young for a cavalry horse—but she was as bombproof a horse as one could wish for. She is a good vaulting and hit-taking horse, and also serves as a ladies' mount (riding sidesaddle.)
Chester
Chester is a 16.2hh Quarter Horse/Thoroughbred gelding, good-looking, tall and lanky. He is very friendly to other people and other horses (sometimes friendlier than other horses would like him to be.) Like a lot of Thoroughbred types he's somewhat hound-gutted, with huge withers so he's one of the few horses in the regiment that actually needs a breastplate to keep him from running out of his saddle. He is of a type that is rather common in old Civil War era photographs.
Jessica
14.2hh Arabian mare. Jessica is a very refined mare, with a primpy trot. You'd think she was a pampered arena baby. But looks can be deceiving. Jessica always gets the job done, is very quiet and never makes a fuss over anything. When you ask her for speed she has it--she is probably the fastest horse in the regiment. So far only Asia in the 9th VA Cavalry has beaten her. She is also an excellent gaming horse. Not bad considering she was purchased for $300 at a livestock auction!
Moose
Moose is a tall, goofy mahogany bay gelding with a bit of a Roman nose (thus his name.) Like Dundee he is a good old boy who gets along with everyone. He serves as a mount for our vivandiere, and also does duty as packhorse when needed.
Molly
Molly is a slick "round as an apple" Arabian mare, and from the start was never bothered by gunfire or cannon fire--no special training necessary. (Could this be why the Arabs preferred mares for war-horses?) Molly is the only horse in the regiment that shows no change whatsoever in gait when the rider fires off her back (even in well trained horses you usually see some slight reaction.) And no, she's not deaf.
In Memoriam:
Count (Viscount)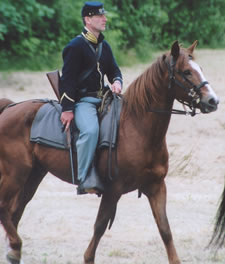 Chestnut Morgan gelding. Count had a long career as a reenacting horse, serving with the Buffalo Soldiers years ago with his first owner, later with the 7th Michigan Cavalry, then as the mount of Colonel Steve Betschart who commands NCWC's Union Battallion, and finally with the 10th NY Cavalry. He distinguished himself by carrying Colonel Betschart over 2 miles of rough trail when the Colonel was injured and bleeding badly, and unable to walk out. Late in life Count was diagnosed with Cushing's disease. He responded very well to medication and was bright and energetic up to the day he died suddenly and unexpectedly, of a heart attack. Count was a very sweet horse that loved attention and being groomed. He took care of inexperienced riders like a true gentleman. He was also an experienced parade horse and his last rider, Steve Pease, got to ride him in the Grand Floral Parade in 2005. Probably the only thing bad you could say about Count was that he was a bit too dependent on other horses for his sense of security, but this was forgivable considering all his good points. Photo ©2005 Freedom Mobile Photography